***Monday February 29, 2016 GMT 06:30***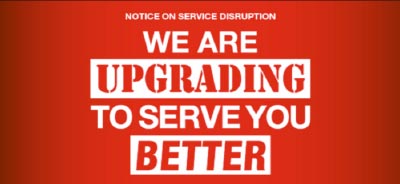 Fly Casino will be performing an upgrade of our systems to expand your gaming experience on Monday February 29, 2016. Here is what you can expect.
Q: What is Fly Casino doing?
A: Fly Casino is upgrading our systems to allow for the addition of over 70 new games and gaming features in 2016. This includes state-of-the-art new Slots, Live Dealer games as well as Mobile gaming.
Q: How will this affect me?
A: During our upgrade, access to your account and games will be temporary blocked. There is nothing you need to do other than kindly accept our appologies for this service distruption.
Q: Are my account details and funds safe?
A: ABSOULTELY! All of your private data and funds are 100% safe and secured. Nothing to be concerned about in anyway. Your account will be accessible for play when our techincal team completes their work.
 
Q: What time will this occur on the 29th ?
A: The Casino will be offline to members for a period of six hours. The times are as follows:
START: GMT 06:30
END TIME: GMT 12:30

*Fly Casino will send you and e-mail before and after.