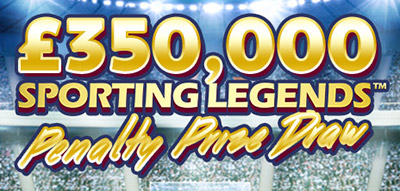 The £350,000 SPORTING LEGENDS cash giveaway will be playing right here at Fly Casino June 18th – July 15th 2018. If you had played in our mega promotion giveaways in the past two years, then you'll like this prize giveaway as well. In fact, you'll swoop into Fly Casino even faster to play with a new DOUBLE TICKET feature!
It's a multi-draw promotion that will issue 11,380 cash prize awards ranging from £10 to £5,000 without any wagering requirements on prizes won at Fly Casino! With 11,380 chances to win, everyone has a chance at winning an unlimited amount of cash prizes.
How to Play:
Your participation is automatic and free when you play selected games listed within this promotion at Fly Casino. There is no fee or opt-in required. You can join the promotion at any time through your play. Of course, the earlier and often you start playing the better chance you have at winning.
How to win:
For every £10* in total wagers made on the stated slots, you will earn one (1) ticket entry for four  weekly drawings. HOWEVER, if you gain ticket entries during each of the first three (3) weeks of this promotion, then you will earn DOUBLE ticket entries for ALL of your game play during week four! You many earn unlimited tickets and win unlimited prizes.
Qualifying games in this promotion at Fly Casino:
Frank Dettori Sporting Legends
Top Trumps Sporting Legends
Ronnie O'Sullivan Sporting Legends
Gem Heat
Gladiator Road to Rome
Heart of the Frontier
Batman V Superman
Epic Ape