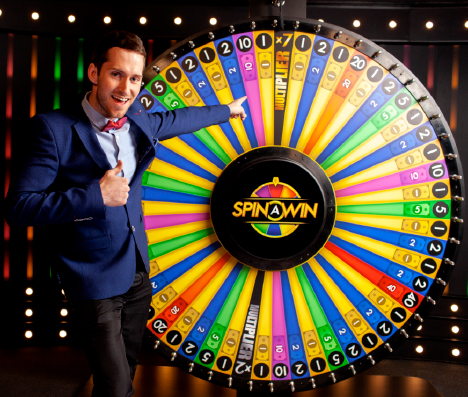 LIVE PLAY SPIN-A-WIN
If you don't know of Wheel of Fortune type games, they are pretty simple. Go to our Live Dealer Games and choose Spin-a-Win.  Our live dealer manually spins a wheel with a marker at the top and you bet on which numbered section of the wheel you think it will stop on. Winning bets are then paid out based on the odds of each particular segment, which are usually the same as the number.
So the number 2 pays out 2-1, 3 pays 3-1 and so on. There are also multipliers that trigger a second spin of the wheel and then multiply any winning bets by that amount. The Wheel is split into betting positions 1, 2, 5, 10, 20 and 40 and each payout corresponds to its number on the board.
HOW TO PLAY
Each number appears on the wheel a different number of times:
Number 1 appears 23 times and pays Even Money.
Number 2 appears 15 times with a payout of 2 to 1
Number 5 appears 7 times with a payout of 5 to 1
Number 10 appears 3 times with a payout of 10 to 1
Number 20 appears 2 times with a payout of 20 to 1
Number 40 appears 1 time with a payout of 40 to 1
The game has 2x and 7x multipliers that are applied to the player's bet followed by a free re-spin. Consecutive multiplier wins result in the multipliers being multiplied together. That's really cool!
Play for as little as $1 a spin. Try it today.
---