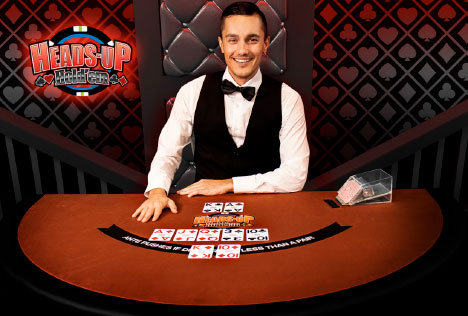 LIVE AT FLY CASINO!
Fly Casino is thrilled to introduce the newest addition to our live Poker games – Head's-Up Hold'em. You can play it for just $1 a hand!
Heads-Up Hold'em is a Texas Hold'em variant designed for everyone that like the thrill of card game action. Players appreciate the traditional Texas Hold'em betting patterns along with unique enhancements that offer additional benefits.
How to Play
Players begin by placing two equal Ante and Odds wagers and any optional side bets. Next, players and the dealer receive two cards (pocket cards). Now, the player may check or make a Raise wager 3x the Ante, the dealer then reveals the 3-card flop. The player may then check or Raise 2x the Ante, the dealer then reveals the 2-card turn and river. Lastly, the player may Raise 1x the Ante or fold. The players and the dealer use the five community cards and their two pocket cards to make their best 5-card poker hand. The best hand wins and any side bets are reconciled.
Optional Side Bets
Trips Plus – Wins odds with Trips or better using the player's best 5-card hand. Win up to 100X
Pocket Bonus – Wins odds with a Pair or an Ace + Face card in the player's pocket cards. Win up to 30X
Bad Beat Bonus – Wins odds if the player loses with a Straight or better.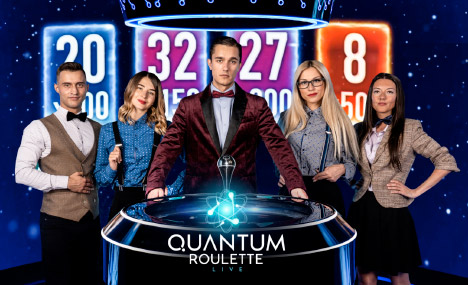 IT'S A HIT!
Fly Casino is thrilled to introduce the newest addition to our live Roulette games – Quantum Roulette Live – where a new studio design offers you an exciting gaming experience! You can bet $0.20 a spin
Quantum Roulette Live is played with a live dealer and a slingshot Roulette wheel. In general, the game follows the same rules and betting options as the Single Zero Roulette, however, in every game round, random Straight Up positions are enhanced with a Quantum Multiplier, which greatly multiplies the payout of that Straight Up bet.
The number of multipliers appearing in one game round can range from 1 to 5 numbers. The possible multipliers are: x50, x100, x150, x200, x250, x300, x400 and x500.
In addition, from time to time, special events take place. These flash across the studio and the Roulette map in bright colors and enhance the multipliers.
The game includes all the familiar and popular betting features like Racetrack and Special Bets as well!
---