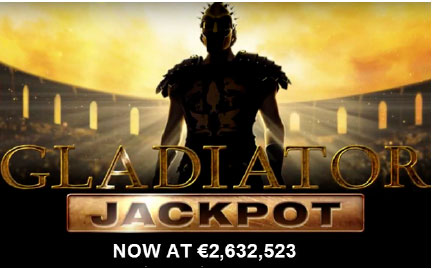 The progressive is soaring and it's time for you to go for it! Gladiator Jackpot is a 5-reel, 25 payline game is based on the mega hit movie Gladiator and you can play it instantly on our website or download version.  
Coliseum Bonus Feature
 
Get three Coliseum scatter symbols to initiate the feature to win up to 24 free spins at 3X. You'll see a grid of 4 rows and 5 columns from which you need to pick 1 stone starting from the bottom row and so on:
The first row will determine your number of free spins
The second row will reveal the multiplier value
The third row will reveal the Extra Scatter Symbol for use during the free spins
The fourth row will reveal an Extra Wild symbol for use during the free spins (only Gladiator movie characters)
Gladiator Jackpot Bonus Feature
Triggered when you get three Gladiator Helmets. Nine helmets in either gold, silver or bronze are revealed to give you cash prizes. If you trigger the Gladiator Jackpot feature during the free spins, you cannot win the jackpot – the jackpot can only be won when triggered from the base game. However, if you reveal 9 Gold helmets, you will win the progressive jackpot!
---
PLAY LIVE TODAY!

BEST NEW GAME OF 2019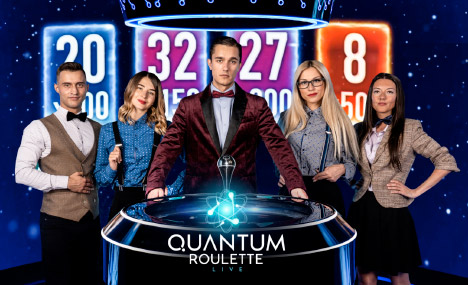 IT'S A HIT!
Fly Casino is thrilled to introduce the newest addition to our live Roulette games – Quantum Roulette Live – where a new studio design offers you an exciting gaming experience! You can bet $0.20 a spin
Quantum Roulette Live is played with a live dealer and a slingshot Roulette wheel. In general, the game follows the same rules and betting options as the Single Zero Roulette, however, in every game round, random Straight Up positions are enhanced with a Quantum Multiplier, which greatly multiplies the payout of that Straight Up bet.
The number of multipliers appearing in one game round can range from 1 to 5 numbers. The possible multipliers are: x50, x100, x150, x200, x250, x300, x400 and x500.
In addition, from time to time, special events take place. These flash across the studio and the Roulette map in bright colors and enhance the multipliers.
The game includes all the familiar and popular betting features like Racetrack and Special Bets as well!
---