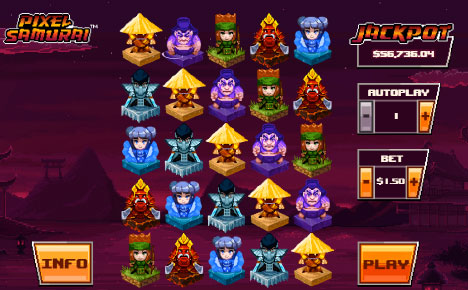 RETRO FUN
Pixel Samurai at Fly Casino is a progressive jackpot slot which is played on a 5 X 5 grid  with fixed betting from .10 to €15 per spin. You can enjoy it on desktop and download versions.
With a retro look and feel the goal is to get five or more matching symbols to form winning combinations. To enhance your winnings, cascading wins occur to build upon your total winnings – there's also a progressive jackpot to be won.
7 PROGRESSIVE LEVELS
If you're lucky enough to get 8 or more Red Samurai symbols in combination, you will win a percentage (%) the Pixel Samurai progressive jackpot – you can win 1%, 2%, 5%, 10%, 20%, 50% or 100% of the progressive jackpot depending on your bet size. The bigger your bet, the bigger the % of the jackpot you'll win.
Play it at Fly Casino today!
---
PLAY LIVE TODAY!

BEST NEW GAME OF 2019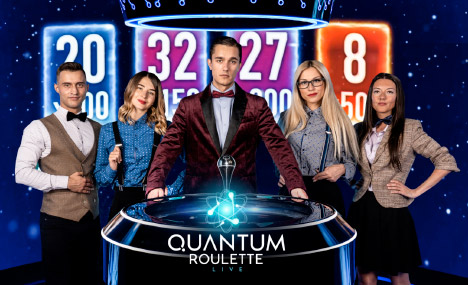 Fly Casino Has Quantum Roulette
Fly Casino is thrilled to introduce the newest addition to our live Roulette games – Quantum Roulette Live – where a new studio design offers you an exciting gaming experience! You can bet $0.20 a spin
Quantum Roulette Live is played with a live dealer and a slingshot Roulette wheel. In general, the game follows the same rules and betting options as the Single Zero Roulette, however, in every game round, random Straight Up positions are enhanced with a Quantum Multiplier, which greatly multiplies the payout of that Straight Up bet.
The number of multipliers appearing in one game round can range from 1 to 5 numbers. The possible multipliers are: x50, x100, x150, x200, x250, x300, x400 and x500.
In addition, from time to time, special events take place. These flash across the studio and the Roulette map in bright colors and enhance the multipliers.
The game includes all the familiar and popular betting features like Racetrack and Special Bets as well!
---