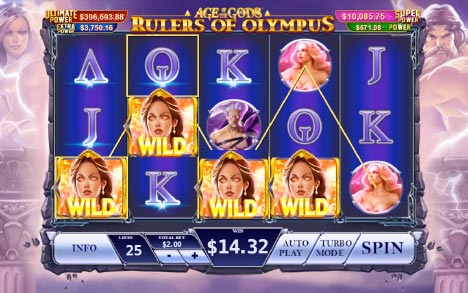 Age of the Gods - Rulers of Olympus at Fly Casino. Rulers of Olympus is 25 payline game with the chance to get up to 50 lines during selected features.
AGE OF THE GODS: RULERS OF OLYMPUS SLOT FEATURES
Shifting Wilds: There are two more types of wilds: Zeus and Hera. Each one acts as a shifting wild, with Zeus moving to the right each round, while Hera does the same to the left. Should they appear on the same row, they can trigger for you Battle for Power Free Spins.
The Battle For Power: Free spins will have the shifting wilds battlingit out, delivering additional wilds between them. If Zeus is defeated, the feature will end. Free spin can be limitless.
Olympus Free Spins: Triggers via an Olympus scatter on the 5th reel. You get 5x4 reels and 50 lines which will have up to 10 Zeus or Hera wilds locked for the entire duration.
Thunderbolts Bonus also appears on the 5th reel. You'll get 7 free games with up to 7 extra wilds are added to the reels.
Age of the Gods Progressive: Of course, the biggest feature of them all is the FOUR network progressive jackpots that can be won randomly after any spin of the reels.
Play it today!
---
PLAY LIVE TODAY!

BEST NEW GAME OF 2019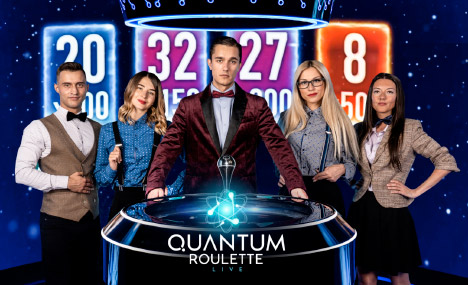 Fly Casino Has Quantum Roulette
Fly Casino is thrilled to introduce the newest addition to our live Roulette games – Quantum Roulette Live – where a new studio design offers you an exciting gaming experience! You can bet $0.20 a spin
Quantum Roulette Live is played with a live dealer and a slingshot Roulette wheel. In general, the game follows the same rules and betting options as the Single Zero Roulette, however, in every game round, random Straight Up positions are enhanced with a Quantum Multiplier, which greatly multiplies the payout of that Straight Up bet.
The number of multipliers appearing in one game round can range from 1 to 5 numbers. The possible multipliers are: x50, x100, x150, x200, x250, x300, x400 and x500.
In addition, from time to time, special events take place. These flash across the studio and the Roulette map in bright colors and enhance the multipliers.
The game includes all the familiar and popular betting features like Racetrack and Special Bets as well!
---