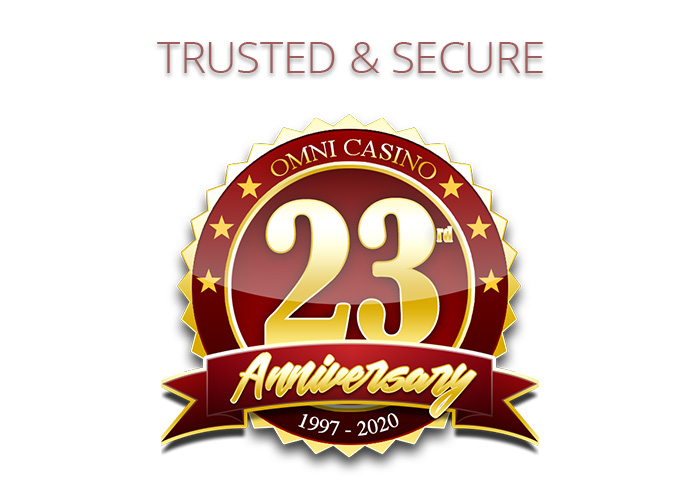 Fly Casino's Sister Omni Casino

Fly Casino is thrilled to congratulate our "big sister" Omni Casino on 23 years of gaming! Omni was established in November 1997 as one of the first online casinos and is the flagship brand of Peak Interactive, which also operates your beloved Fly Casino.

Over the last 23 amazing years Omni has built a formidable reputation for delivering an unrivalled experience to members. As Omni grew throughout the years, our high standards for absolute integrity, transparency and service standards have always been at the forefront of our legacy. This has allowed us to successfully deal to hundreds of thousands of members with millions of gaming sessions yearly.

When it all started:
Two decades ago a small group based in Antigua had a vision to become an innovative online gaming company. Back then, nobody really knew what the internet really was and what it could really do. To be honest, we did not have a clue to what we were doing! Who did? We were at the forefront of this new entertainment concept and even though we were trying to figure out for weeks a way to get an email to automatically send to a new member sign up, we knew that we could do it…eventually. Our biggest challenge was not so much the technology (we figured that out as we went), but rather it was to prove that online gaming could be done fairly, honestly and safely. So, with a handful of staff members in a one room office overlooking a parking lot of a food store, we set out to make Omni Casino prove just that!

It took us years and years of proving our honesty and reliability to our members and partners. In the end, we become the #1 most trusted and secure casino that has received dozens of awards and counting! Casino Player, Gambling Online, and Playboy Magazines to name a few have all recognized Omni Casino's contribution to gaming entertainment. While humbled by these accolades, our success is really measured by the satisfaction of our members, partners and employees.

Our games and mobile:
With just handful of games when we started, Omni Casino has become a multi-national company with staff based around the world having amassed a game portfolio of over 500 games and counting. Playtech, our main supplier, has worked with us over the past decade to continually expand our offerings. From innovative online slot games such as the Age of the Gods and Kingdom Rise progressives' network, to the mega slot hit Buffalo Blitz LIVE, our content is the most innovative online.

Omni Casino has Mobile Gaming! Live Dealer! The Latest Slots, Mega Promotions! Cash Giveaways! Trips! Dinners! And…so much more.

As you travel with Omni Casino starting now and through the next year, you will be showered with great promotions and a continuous flow of the best new games online.

As a member of Fly, you are always welcomed to enjoy Omni Casino as well! We are one big family of 23 years' experience and trust.
 Promotions
Saturday July 4, 2020
This Saturday 00:00GMT until 23:59GMT, on your first deposit of $/£/€10 or more members are eligible for our exciting Your Choice bonus.

Deposit between $/€/£10-34 and get 150% up to $50
Deposit between $/€/£35-80 and get 125% up to $100
Deposit between $/€/£81-166 and get 100% up to $166

Use Promotional Code: SAT333

Monday July 6, 2020
DOUBLE 150's! From 00:00GMT until 23:59 GMT, all members on their deposit of $/£/€30 or more will receive a 75% bonus up to $/£/€150.00 bonus. Claim 2X!
Use Promotional Code: 300FLY


Tuesday July 7, 2020
Big 133% Tuesday! From 00:00GMT until 23:59 GMT, all members on their deposit of $/£/€30 or more will receive a 133% bonus up to $133.00.
Use Promotional Code: 133FLY


Thursday July 9, 2020
Kicked-Up Thursdays! From 00:00GMT until 23:59 GMT, all members are invited to receive ONE of four bonuses based on your deposit amount starting at just $/£/€ 30 or more.

Deposit of $/€/£30 or more gets $/€/£40.00
Deposit of $/€/£50 or more gets $/€/£65.00
Deposit of $/€/£100 or more gets $/€/£135.00
Deposit of $/€/£200 or more gets $/€/£200.00

Use Promotional Code: KICK135

Hot Seat
Voted our most popular promotion by our members, The Hot Seat Promotion is a guaranteed win. For each qualifying gaming day that you play you will be awarded with one Hot Seat Point. The more days that you play, the hotter your seat gets and the more cash you win. Play 28 days or more during the promotional period you WILL win $/€/£500.00!